Back to List
Recordings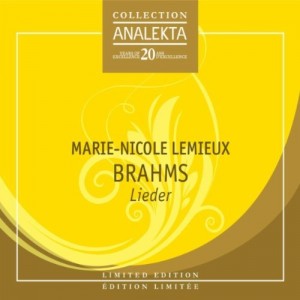 Marie Nicole Lemieux: Brahms Lieder - Limited Edition
Released:
September 16, 2008
Throughout his life, Johannes Brahms (1833-1897) cultivated the Lied like a private garden growing around the edges of his great symphonies, concertos, chamber works and piano pieces. Months and even years might go by between the composition of a song and its publication, during which time Brahms would reflect on its merits and make refinements. When it finally came time to publish a collection, he took great care in the songs' order, as if arranging flowers in a bouquet; he even referred to them as "bouquets of songs."
The first collection appeared in 1853; Brahms had just turned 20. The last was published in 1896, just a few months before his death. During the intervening 43 years, he offered 33 collections to the public—some 190 songs in all. However, these probably represent only part of Brahms' output in the genre, many others likely being rejected and destroyed.
Because his settings were mostly of minor, fashionable poets rather than greats such as Goethe, Heine, or Rückert, Brahms has often been criticized for his choice of texts. Yet Brahms hardly lacked culture or literary taste; rather, he felt that the poems of the masters were of such perfection that music could add little. On the other hand, among the poets he did set, Brahms—the lonely figure tormented by unattainable love who takes consolation in nature—found themes that echoed his own feelings and material that could be transcended by music. In society and in song, Brahms could be light and joyful, good-naturedly employing the populist medium. However, most of his Lieder evoke his deep, inner sentiments: the ache of unrequited love, the loneliness of the human condition, the inescapable finality of life, but also the comfort offered by nature.
Related Links